About Pine Street Animal Hospital
For animal lovers, pets are more than just companions; they are irreplaceable members of our families. And like any family member, each one is special in its own way. The doctors and staff at Pine Street Animal Hospital recognize and champion that ideal. Therefore, we strive to offer the highest quality of care and individualized service. Our mission is to offer specifically tailored plans that best serve the interest of your pet. From preventative health care to unique treatment plans, Pine Street Animal Hospital is committed to improving your pet's quality of life through superior veterinary care.
Staff
The pet care specialists at Pine Street Animal Hospital are all here for one main reason – they all love pets. Each employee will lovingly treat your pets like their own during wellness visits, emergency care or overnight boarding. So every interaction you have – from the receptionist on the phone, to the vet tech who checks you in, to the boarding staff who help clean the runs – will be with people who want to work with pets and people.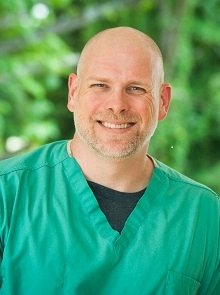 Dr. Glenn Adcock
Dr. Glenn Adcock is a native of Opelika, Alabama, and a graduate of Opelika High School, Class of 1987. In August of 1987, he joined the U.S. Navy submarine service, where he served as a nuclear missile technician on board the U.S.S. Bancroft SSBN 643 Blue Crew. He returned to Alabama in 1993 and began undergraduate work at Auburn University as a Wildlife Biology major. From there he was admitted to Auburn University's College of Veterinary Medicine and received his DVM in 1999.
Dr. Adcock pursues several hobbies. In addition to being an avid outdoorsman, he is also a certified CrossFit trainer and owns his own gym, Motivus CrossFit, here in Spartanburg. If he isn't in the office, the woods or training at his gym, he can be found at Auburn football games or spending time with his family: wife Cayce, son Jackson, and young triplets, Elizabeth, Sawyer and Sterling.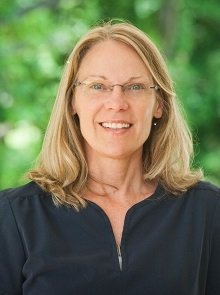 Dr. Tina Gorney
Dr. Tina E. Gorney received a Bachelor of Science degree, graduating Summa Cum Laude in 1995 from Austin Peay State University in Clarksville, Tennessee. In 1995, she received one of only 10 at-large bids to Auburn University College of Veterinary Medicine in Auburn, Alabama. She graduated Cum Laude with a Doctor of Veterinary Medicine in 1999. Dr. Gorney and her husband, Troy, have a cat named Popeye and a lab named Shelby. She is passionate about Auburn University football and mountain biking singletrack. War Eagle!