Cayce Adcock, Practice Manager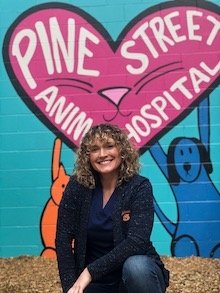 Cayce Adcock is a native of Greenville, SC. She is an alumnus of the University of South Carolina Spartanburg ('07) where she was Co-Captain of the Women's Soccer Team. She earned a BA in Secondary English Education and began her teaching career at Chapman High School in Spartanburg County School District One. During her 9.5 yrs at CHS, she earned an MA in Education from Southern Wesleyan University and an Ed.S. from Converse College.
In 2016, Cayce transitioned into the role of stay-at-home-mother after giving birth to triplets (Elizabeth, Sterling, and Sawyer).
In September of 2020, Cayce joined the Staff at Pine Street Animal Hospital as the Practice Manager where she oversees personnel, communications, and marketing. Cayce loves her new job as she is able to do what she loves most: helping others and developing relationships with people.
When not at work, you will find Cayce spending time with her family outdoors, involved in various ministries at her church, and doing her best to keep an active, healthy lifestyle.